Download Sample Report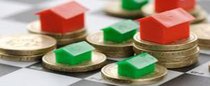 A sample of the monthly report showing consumer confidence and the ability of consumers to spend.
> Read More
YouGov's Economic Tracking Data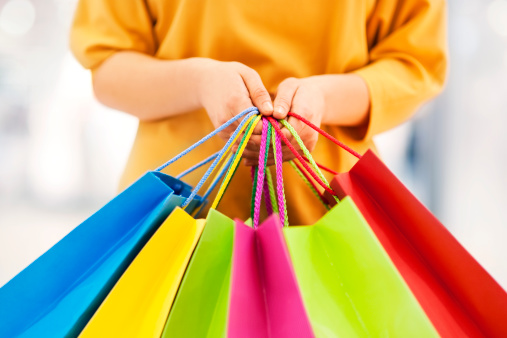 For its Household Economic Activity Tracker (HEAT) data, YouGov's asks consumers about their economic outlook on a daily basis, conducting more than 77,000 interviews a year. The data is a powerful tool for any organisation looking to understand how consumers interact with the economy.
YouGov's HEAT data covers all aspects of consumer economic behaviour, including:
Household financial situation: current position and expected future changes; debt levels
Workplace: job security, business activity, projected job growth
Housing: prices and expected change
Credit: needs, cost and availability
Spending: current and expected future spend in categories such as groceries, vacations, mobile phones, newspapers, clothing, going out
Macroeconomics: expected inflation rate, confidence in government management, overall conditions for making major purchases
See more about the YouGov / Cebr Economic Briefing and YouGov's Economic Dashboard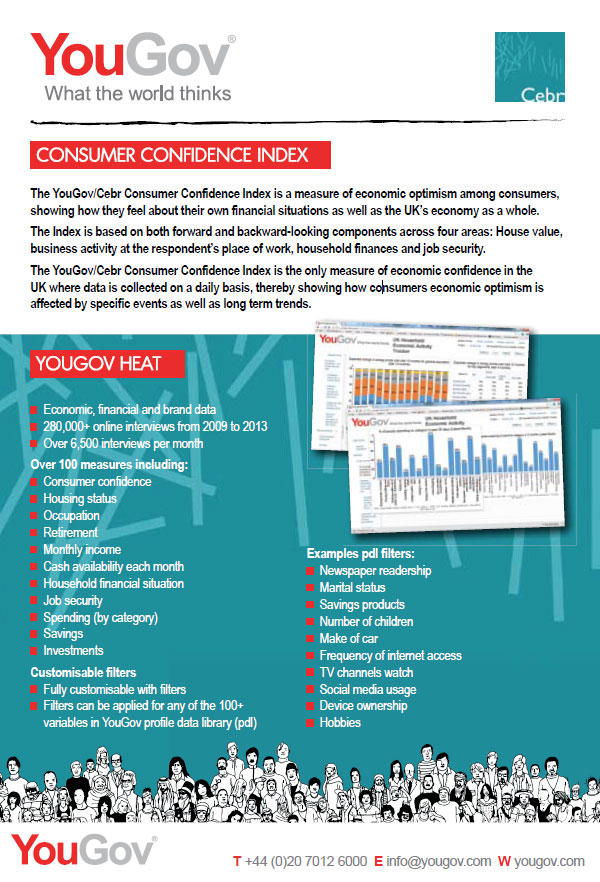 Access our info sheet for more information
The YouGov / Cebr Economic Briefing
The YouGov/Cebr Economic Briefing combines HEAT data with expert insight from the Centre for Economics and Business Research. It provides an in-depth, up-to-date, monthly review of how consumer attitudes and behaviours are shaping the economy.
Areas covered by the YouGov/Cebr Economic Briefing:
YouGov / Cebr Consumer Confidence Index
The Index looks at:

- House value (home owners only)
- Household financial situation
- Job security
- Business activity in your place of work
Consumer spending power analysis
Reported and expected income growth
Cost of living
Spare cash availability
Household spending patterns and behaviour
Spending patterns
Saving and borrowing
Consumer attitudes
Consumer concerns
Government handling of the economy
Latest economic and business outlook data from Cebr
Business confidence
Aggregate economic sentiment indicator
Economic forecasts
GDP
Interest rates
Employment
RPI
YouGov Economic Dashboard
YouGov also provides HEAT data to clients through its Economic Dashboard. The dashboard is customisable and interactive and provides subscribers with an up-to-date stream of consumer economic data:
Deep content
Respondents are asked detailed questions about their income, debt and use of debt products, employment, housing, and spending, giving a 360 degree perspective on how consumers interact with the economy
Current
Data is collected every business day and delivered to your desktop by the third workday of the following month
Customisable
We can work with you to identify key segments that can be broken out separately in the dashboard as a special segment
Interactive
Unlike traditional reports, the economic dashboard allows subscribers to easily explore the data - comparing how different sub-groups compare to the national norms. With access to the historical data, you can easily see how a current data point fits into the context of the past 5 years
Related Services
YouGov's innovative segmentation and planning product for media agencies and brands.

Each YouGov market intelligence report contains primary consumer research you won't find anywhere else.