The YouGov Omnibus is the perfect vehicle to quickly and cost-effectively find out people's opinions, attitudes and behaviours.
We have been independently acclaimed as the UK's most quoted research company* – the YouGov brand ensures that our clients have a 'head start' in gaining high media visibility and adds both credibility and independence to results.
The YouGov Omnibus is an essential tool for:
generate campaign coverage
new product development
campaign planning / evaluation
gauging instant public opinion on breaking news stories
ad tracking and concept testing
YouGov's research receives far more media coverage than anyone else's research*.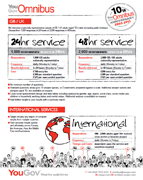 This year YouGov Omnibus celebrates its 10th anniversary. We are incredibly proud of what we have accomplished over the last decade, and we hope to take things to new heights in 2013 and beyond. For more information see our 10th anniversary rate card.
*Source: Meltwater News
YouGov's market-leading nationwide omnibus runs every weekday.
> More
Reach both nationally representative and specialist samples from virtually any developed market.
> More